25 July 2023
The Goathland Hotel AKA "The Aidensfield Arms" from Popular TV Series "Heartbeat" For Sale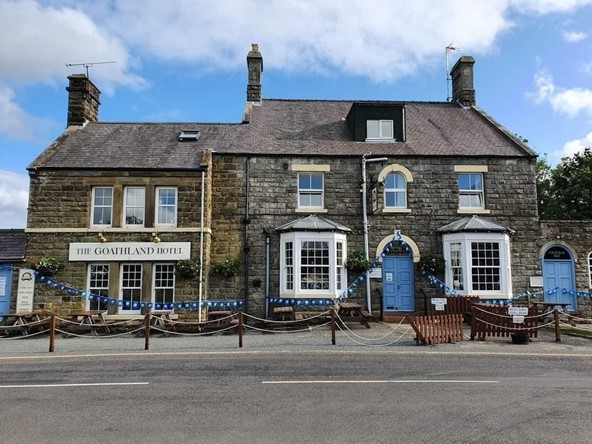 Vernon Scripps, Claude Greengrass, Alf Ventress – they've all supped at this famous bar.
Joined by members of the North Yorkshire constabulary, including Sergeant Oscar Blaketon, PC Phil Bellamy and PC Nick Rowan, they have enjoyed many a pint at the Aidensfield Arms, the hub of community life in the long-running TV drama Heartbeat.
Now the York stone pub where so many a rural crime was mulled over and village goings-on discussed, is up for sale.
The Goathland Hotel, situated in the pretty North York Moors village of that name, served as the Aidensfield Arms in the TV series which ran from 1992 to 2010 and is popular worldwide.
It is the first time in almost 40 years that the Victorian hotel, having been successfully run by the same family, has come to the market. Due to retirement, the business and the lease (which runs until 2030), is available.
Most of the internal scenes in the pub were shot there and many of the features seen in Heartbeat are still visible today. As a result of its fame, The Goathland Hotel welcomes thousands of visitors throughout the year from fans of Heartbeat from across the globe. Its place in television broadcasting history is well-placed, and the popularity of the series never wanes.
The hotel comprises a lounge bar and public bar, where It is easy to picture barmaid Gina Ward, who married PC Bellamy in the TV series, pulling pints and chatting to customers.
There is a family room/lounge and an added attraction that will appeal to people of all ages – an ice cream parlour/shop with further seating.
The hotel has nine letting bedrooms, a residents' lounge, three-bedroomed proprietor's accommodation, car parking, and a large grassed beer garden where guests can enjoy summer afternoons after a moorland walk .
"This is an excellent opportunity to acquire a successful trading business, with all the benefits that go with it by association with Heartbeat, and set in one of the country's finest areas of natural beauty," says Barry Crux of Barry Crux and Company in Castlegate, York, who are marketing the hotel.
"It is a once in a generation opportunity to acquire this highly successful business, with the long-standing association with Heartbeat. It is a unique property, a thriving business and a piece of TV history."
He adds: "The North Yorkshire Moors Railway, which runs through Goathland, brought the village its initial success and access to the moors as a tourist destination.  This railway still brings guests to Goathland from March until November."
A price of £175,000 is being sought for the benefit of the lease, goodwill of the business, its trade fixtures, fittings and equipment, plus stock at valuation.